---
Debt Collection
For purposes of this article we shall focus mainly on undefended matters.  A short diagram to summarise the process follows:-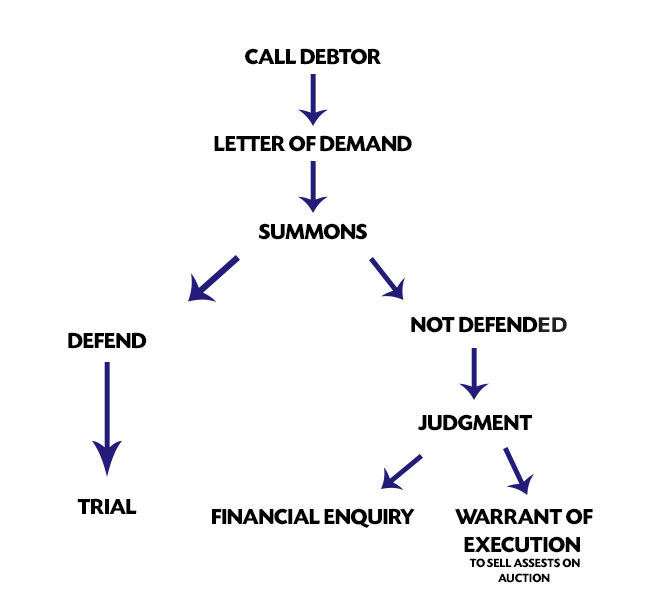 Some debtors may co-operate and usually make an offer to pay the debt in installments.
In the event that the debtor does not co-operate with you, the client, will be forced to proceed with the issue of a summons. 
Now the question every client asks: "shouldn't the debtor pay the costs?"  This will depend on what the agreement you had with the debtor.  Some agreements make provision for legal costs to be recovered.  Most people do not have agreements in place.  In this case the debtor may still be liable for some of your legal costs but it will only be collected once the debtor starts making payment.
The effect is that you will need to bear the costs until it can be collected from the debtor.
Once summons is issued the debtor can defend the action and the matter will proceed to trial, where both parties will testify, and the court will then give judgment.
If the debtor does not defend the claim you can apply to Court for judgment by default.
Once the court has granted judgment there are 2 options:-
 Warrant of execution – The Sheriff of the Court will attach and sell the  movable assets of the debtor.
Financial enquiry – The debtor must appear before Court for a financial enquiry.  The end result will be that the debtor pays the debt in installments. A consent to deduct money directly from the debtor's salary can also be requested or consented to.
CONCLUSION:-
See to it that your client signs a contract and please take legal action as soon as possible when your client is in default.
.